March 27, 2023
Categories:
Hospitals & Healthcare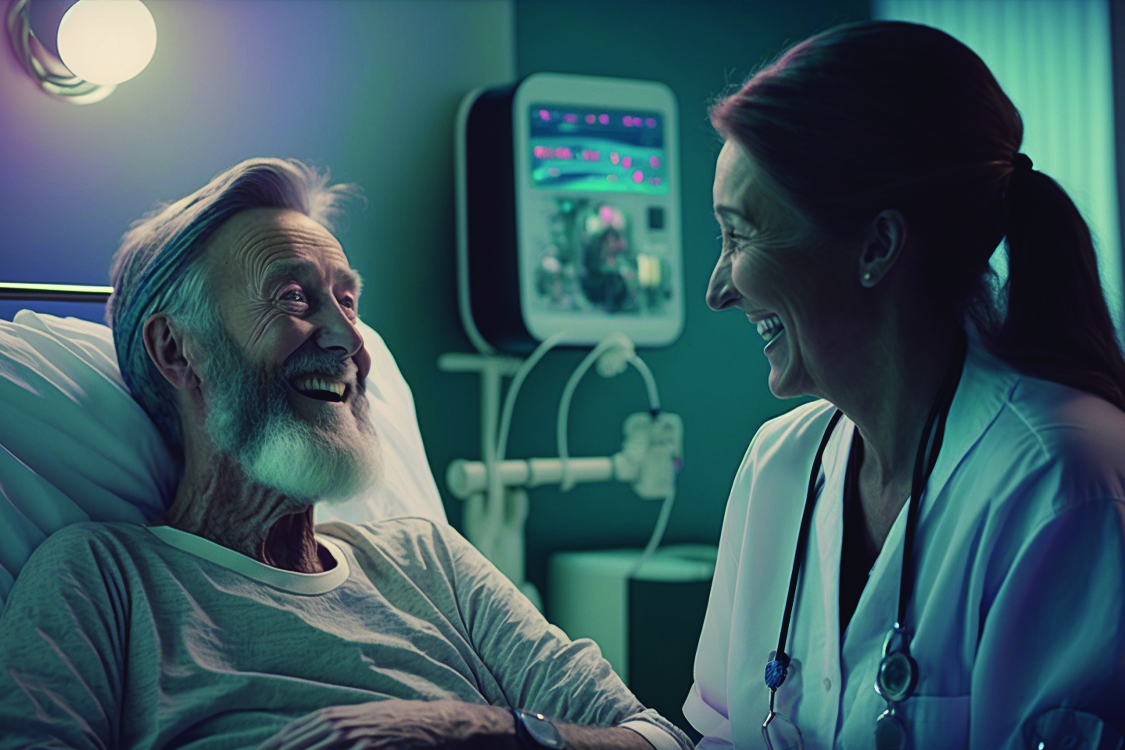 People who need to spend time in the hospital already have enough on their minds. They're going through something requiring them to relinquish some control over their lives and put their care into the hands of others. Whether it's for a long-term stint or for a test, appointment, or a visit to the emergency department, spending any amount of time in a hospital environment can be stressful and daunting. However, technology can help to ease some of the angst patients might feel. It is so vital to find innovative ways to improve patient experience in hospitals.

Comprehensive Experiences
Getting the best outcomes for patients is the goal of everyone in a hospital setting. When most people think about the patient experience, they tend to think of something very narrow such as the experience of a patient in the exam room, but a patient's experience with the healthcare system includes everything from appointment booking and follow-up care to things like parking, hospital food, and wayfinding. Essentially, the patient experience is everything that affects them.
Those in healthcare say the patient experience can best be described using the word, CREATE.
C is for caring about patients and where they are in their healthcare journeys
R is for responsiveness to patient needs
E is for the ease of use of whatever digital tools patients are using
A is for agility. Keeping healthcare salient and flexible to survive moving forward
T is for technology with a purpose that delivers
E is for equitable. Making sure there is fairness for patients and healthcare providers when it comes to using digital tools. Everyone should have access
To that end, location-based technology can play a large part. A review of indoor positioning systems in hospitals posted by ResearchGate, suggests two of the most important aspects of technology in hospitals are "the navigation of individuals and the localization of objects within buildings." Furthermore, indoor positioning systems (IPS) are integral to finding the right room or important objects, such as respirators. Since hospitals have a unique environment concerning radiation and electromagnetic fields, for example, X-Ray and high-frequency fields, those circumstances are especially relevant for IPS in hospitals.
Easing Stress with Location-Based Technology
There is a definite marriage between patient and health provider stress. When patients can navigate through their experiences with less tension, it is much easier for healthcare staff to provide the necessary care. On the flip side, when staff members experience less stress, it's easier on patients. These energies feed off each other and digitization can often be a panacea.
There are definitive ways to improve patient experience in hospitals with technology in hospitals. Here are some of them:
Wayfinding. Digital indoor navigation and mapping cuts down on time and provides a solution to getting around a large hospital facility. Mapsted's location-based navigation system assesses the quickest way to a patient's destination using turn-by-turn directions. This digitization also helps facility managers to keep accurate and updated maps when changes take place.
Accessibility. Digital solutions can provide patients with much-needed accessibility information such as the location of ramps and elevators for those who need them. It is incredibly handy to have information on accessible paths and hallways. Mapsted's technology also assists those with hearing and/or vision loss to find where they need to go.
Safety. It's extremely important to keep patients and staff safe in hospitals. In case of an emergency, it's crucial everyone is able to locate emergency exits and receive safety instructions. Mapsted's technology is able to provide information on the nearest exits and enable managers to send alerting information such as areas that have been closed like corridors, and elevators due to circumstances.
Parking. Many hospital parking lots are large and can be confusing, especially when emotions are running high. With an indoor-outdoor navigation system, patients and visitors can familiarize themselves with the parking area before they arrive, and pin their parking location when they arrive so they'll be able to easily return to their spot.
Digital signs and interactive kiosks. Along with digital information kiosks, hospital digital signage plays a vital part in hospital wayfinding. Both can be used to display hospital information, as well as assist patients and visitors in distinguishing between many different buildings, areas, and departments of a hospital campus. Another example of hospital wayfinding design is employing digital signage via waiting room boards to inform patients when it's soon their turn to be seen by healthcare staff. These are common in urgent care and emergency departments.
Personalized maps. Patients will find custom digital maps an asset to their forays into hospital environments. Hospital managers can add data into an indoor navigation system creating personalized wayfinding experiences. Instead of losing their ways, patients will end up in the right departments on time for their tests and procedures.
Sharing locations. Patients can send their exact locations to others while inside a hospital. Direction-sharing is also useful for hospital staff to send appointment details to patients along with turn-by-turn details on the easiest ways they can get to where they need to be.
The Last Word
More hospitals are adopting location-based technology. When using Mapsted's savvy technology, along with proper wayfinding design, hospitals are becoming much easier places to navigate, increasing patient and guest satisfaction.
Mapsted's hardware-free hospital navigation app provides detailed layouts of the hospital campus and provides real-time hospital navigation ensuring visitors are able to locate any department or employee without the frustration and stress of becoming lost.
Patient disorientation often causes panic and these people often ask staff for directions. This disruption reduces staff productivity, taking them away from what they really should be doing. Location-based digital solutions make getting directions simple for patients and visitors allowing staff to focus on work. All this wealth of information is accessible simply by using a smartphone. For additional information, you might find this video insightful.
Frequently Asked Questions
Q1. How does Mapsted's indoor positioning system help improve services in hospitals?
Ans. Hospitals are mostly crowded and have large indoor spaces. For patients, it can be difficult to find the right location for appointments. With Mapsted's indoor positioning system, users can easily navigate their way to the right room without any stress.
Q2. Can patients find exact rooms within large hospitals?
Ans. The power of wayfinding aids patients in finding an exact room, likely without the need for a staff member to help which saves their time and staff's time.
Q3. Can location-based systems for hospitals be a solution to reduce late appointments?
Ans. Wayfinding can greatly reduce the number of people who show up late to their appointments. With Mapsted's app, they have a clear indication of where they are and how to get exactly where they need to go with turn-by-turn directions.
Q4. How do healthcare providers ensure that patient data is secure when using location-based technology?
Ans. Healthcare providers must take the necessary steps to ensure patient data remains secure when using location-based technology. This includes implementing strong security protocols, such as encryption and access control, to protect the data from unauthorized access. Additionally, healthcare providers should also consider using technologies such as geofencing to restrict access to sensitive areas or locations where patient data is stored.
Q5. What benefits does this technology provide to healthcare providers and patients?
Ans. Technology can help healthcare providers by providing better diagnosis accuracy, reducing paperwork, and improving patient care. For patients, It can provide more personalized care, faster diagnosis and treatment times, as well as reduced costs. By leveraging technology in healthcare, both providers and patients can enjoy a higher quality of life.