February 24, 2023
Categories:
Corporate Offices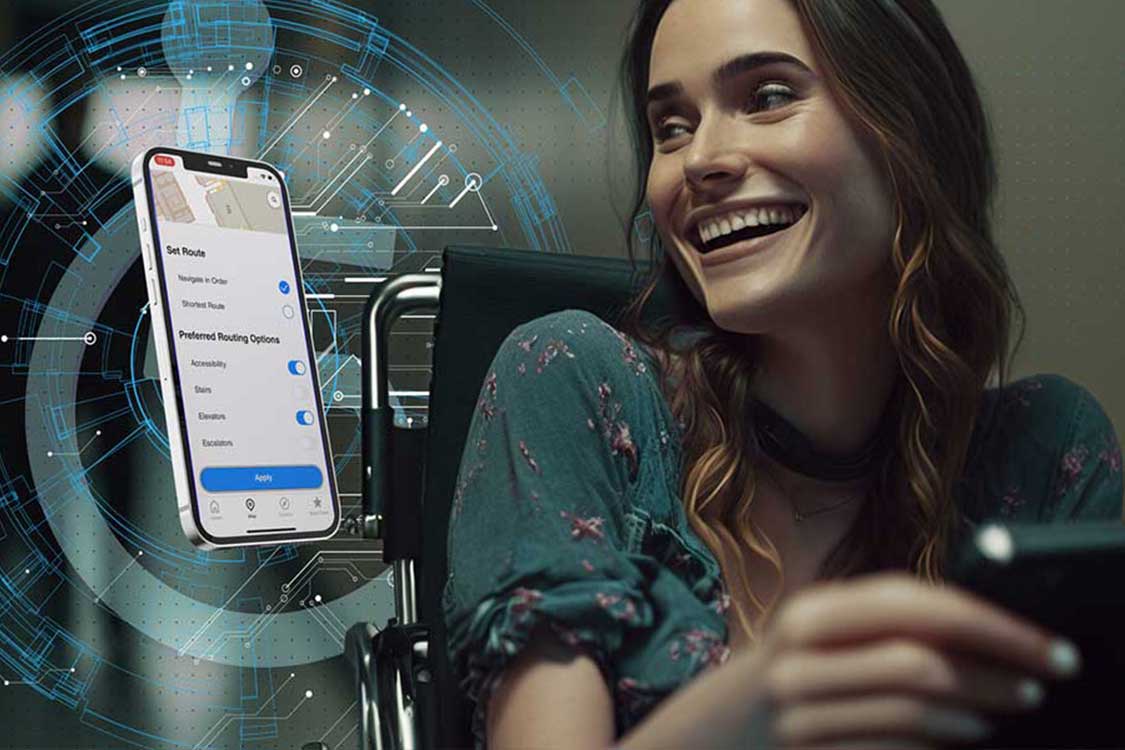 There are so many benefits of upgrading technology in the workplace. Using assistive technology (AT) in a work environment can support employees with disabilities to achieve their full potential. One of the most important things to employees is knowing they are doing their best. Giving them the technological tools to succeed is paramount. Using AT is a new way of working and it has many fans.
AT tools such as software, hardware, workspace adaptations, and vehicle modifications can make work easier, more comfortable, and more accessible for employees with disabilities.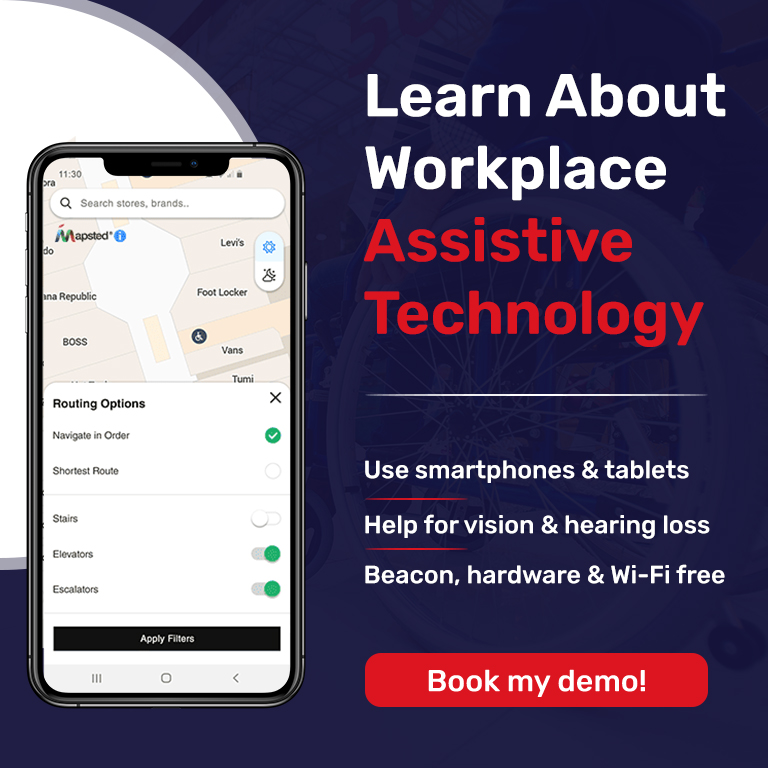 Helpful Assistive Technology Tools
Here are some examples of how AT can make a work environment more inclusive:
Software. Much of AT focuses on software to help in communication such as tools like instant messaging services. This can be very handy for employees who are deaf or hard of hearing. Since working remotely has become more common, instant messaging software can be used instead of phone calls. There are all kinds of software tools on the market. People who have dyslexia might make use of spelling and grammar checkers or dictation software; text-to-speech software works for those who have difficulty speaking or who have a visual impairment. Voice command tools are highly useful for those with limited hand or arm movements or who lack fine motor skills to type.
Hardware. There are many types of AT hardware, including tablets with zoom controls for people who have vision difficulties, magnifying sheets to enlarge print, portable Braille displays, and keyboards. For those with physical disabilities, keyboards come in ergonomic designs as does a mouse. In terms of phones, there are many types for people who are deaf or who have a hearing impairment, including phones which amplify sound, connect to a hearing aid, or turn words over the phone into live captions.
Workspaces. Since employees spend much time in the work areas, it's important to have the setup as comfortable as possible to keep them engaged. Employees might benefit from adjustable desks, a computer or laptop stand, or an adjustable office chair.
Smartphones and Tablets are Becoming Go-To Solutions
Today's Assistive Technology includes smartphones and tablets with built-in features for enhanced accessibility. These are prime examples of new technology in the workplace and a wonderful tool for those who are blind or have a vision impairment.
Uses of these devices include identifying objects, navigation, requesting help from a sighted individual, listening to audiobooks, reading eBooks, and optical character recognition.
Additionally, this new way of working allows those with a disability to fit in more with the mainstream since using these devices does not call undue attention to them, the study suggests.
"Many mainstream smartphones and tablets (such as those produced by Apple and Google) now incorporate built-in accessibility features that enable them to be used by individuals who are blind or who have low vision, without the need to use specialized traditional assistive solutions that set them apart from others," the study points out.
Here are Some Survey Statistics to Consider:
Most participants (97%) use a smartphone.
49.5% use both a smartphone and a tablet, and only 3% of respondents use a tablet alone.
Those with moderate and severe vision losses are slightly less likely to use a smartphone (93% and 92%, respectively) than those with mild or profound losses.
Those with severe and profound vision losses are less likely to use a tablet (65% and 46%, respectively) than those with mild or moderate losses (78% and 83%).
Participants generally believe themselves to be skilled smartphone users, with 71% reporting advanced proficiency, 26% reporting intermediate proficiency and 3% reporting beginner proficiency.
Most tablet users (70%) have more than three years of experience with their tablet device, with 19% having one to two years of experience and 11% having less than one year of experience
Of the 466 respondents, 95% report they use their device to make phone calls; 93% to send and receive text messages; 92% to browse the web, 92% to read email; 83% to listen to music; 81% for social media; 75% for calendar functions; 67% to take photos; 61% for reminders; and 53% to participate in video calls.
From all the evidence, certain mainstream smartphones and tablets serve an important role in the lives of those who are blind or who have low vision. But, they can also serve those who have other disabilities such as hearing loss. The challenge is to ensure people with disabilities are aware of how these devices can benefit them and how they can use them since they have the capability of being life-changing.
Location-based technology provider Mapsted can help employers help their employees with this new assistive technology in the workplace and a new way of working. With its indoor wayfinding solutions for people with accessibility needs, Mapsted can ensure safe, reliable navigation. The system needs no beacons, Wi-Fi, or external hardware and fully supports accessibility routing.
Some System Highlights Include:
Color and display adjustments with options for both high and dark contrast.
Voice navigation allows users to hear contextual turn-by-turn directions for safety.
Audio instructions help users stay aware of their surroundings, providing them with additional information on points of interest along the route.
Alerts that detail what is right beside them (such as escalators) and what they will soon be approaching.
Speech-to-text search delivers highly accurate voice recognition capabilities for a faster, more natural way to search for desired points of interest and destinations.
Orientation information lets users know their current location in relation to their surroundings. Features include segments, pathways, decision points, landmarks, and objects.
To provide a more accessible, inclusive work environment, we invite you to reach out to Mapsted for a no-cost demo to see how we can help. For more information about all the benefits location-based positioning technologies can provide for your workplace, you may be interested in watching this video or visiting our website.
Frequently Asked Questions
Q: What are indoor maps for the blind or visually impaired?
A: Mapsted prides itself on ensuring all technology is accessibility friendly. Our indoor maps can be programmed to find the best/safest possible routes for the blind or visually impaired.
Q: How do blind or visually impaired people navigate indoors?
A: People who are visually impaired can navigate indoors using Mapsted's location positioning technology equipped with accessibility routing which allows people to choose the safest/best route for their indoor journey.
Q: Are there indoor wayfinding apps for the blind or visually impaired?
A: Mapsted's entire suite of location positioning technologies can help the blind and visually impaired.
Q: What kind of tools does Mapsted offer to help those with disabilities?
A: Mapsted's smart workplace technology includes voice navigation, audio instructions, colour and display adjustments, speech-to-text search capabilities and orientation tools.
Q: How can assistive technology help employees with disabilities?
A: It can help by identifying objects, navigation, requesting help from a sighted individual, listening to audiobooks, reading eBooks and optical character recognition. It can also help an employee with a disability to fit in more with the mainstream since using these devices does not call undue attention to them.